Wendy Reed
This week we want to start out right by highlighting our RVP Queen Wendy Reed.  Our Queens bust their butts working hard to inspire, coach, and guide you. Crowned for Success is all about empowering women to meet their highest potential… Wendy was a professional cheerleader and well, we want to take a second to return the favor.
So, here it goes:
2, 4, 6, 8 who do we appreciate
WENDY! WENDY! Gooooooo WENDY!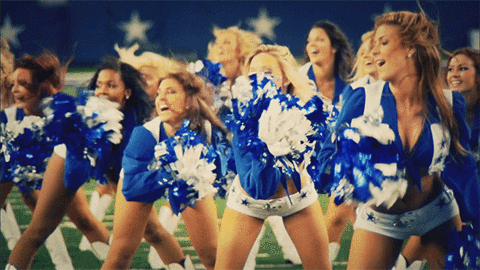 Okay, I guess I can do a little better. Here is a little interview we did with Wendy to get to know her better.
Tell the Queens a little bit about you, who you are, what you do, and somethings you enjoy personally?
My name is Wendy Reed and I am a wife, mom to three boys 22, 20 and 17. Stepmom to two boys 21 and 17 and one girl who is 19!!! I was born and raised in Dallas, Texas. I spent the majority of my life training to become a professional ballerina. In 1990 I traded my point shoes for Pom poms and cheered for the Dallas Cowboys for 4 years including 2 Super Bowls!! 
I am currently working to become a coach and empower women who are unhappy in their 9-5 job and desperate to work from home so spending time with the kids is possible! I currently coach women entrepreneurs how to gain more followers on Facebook and increase engagement, visibility and sales.
why do you do what it is that you do?
I do what I do because I went through a divorce around 9 years ago. It was literally one of the hardest things to do. Learning how to function as an individual and standing on my own two feet seemed impossible. I was lucky enough to stay at home with my kids while I was married. I was blessed to not work outside of my home. Divorce changed all of that and I wasn't prepared. I never want a woman to feel paralyzed with fear like I was. It is my passion to help as many women possible get "unstuck!"
What are you currently working on?
Right now I am working on getting organized going into 2020 and focusing on my coaching. I love to motivate and coach other women in business.
When you are working with Queens, what do you hope they take away from your interactions?
I hope the Queens I work with take away the importance of "taking action!" This took me longer to implement and I really want them to see the importance of this. A dream is only a dream unless you are moving forward and taking action… less talk and definitely more action.
What is your biggest piece of advice for Queens on their journey?
My best advice… Never ignore your inner voice. Never let fear stop you from moving forward and if there is something you want to do, do it! You do not learn unless you try. There is no such thing as failure; you only fail if you never try…
Anything else you'd love to share?
My dream job is to become a motivational speaker. Fun fact, I am a twin!  I am 3 minutes older than my brother, Scott. And you can follow me on Instagram @wendynewmanreed